Email
Please fill in the form to contact us
A member of our team will get back to you shortly!
You have a question ? Do you want to know more about SOOdispatch? You would like a personalized demo?
Email
Please fill in the form to contact us
A member of our team will get back to you shortly!
You have a question ? Do you want to know more about SOOdispatch? You would like a personalized demo?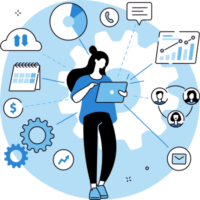 Contact our support
If you are using SOOdispatch and need help, please login to your backoffice to access the Helpdesk.
Live Chat
[Soon available] Ask your questions on the live chat, an available operator will answer you quickly.
Pricing and Features
[Soon available] Download the complete SOOdispatch pricing and features sheet.
FAQ
Frequently asked questions
How de we manage data protection?
SOOdispatch is a SaaS (Software as a Service) solution, accessible by subscription.
The solution is based on a virtualised environment on our infrastructure. You do not need any server or technical set-up.
The technical platform is secure, redundant, environmentally friendly and is based on OVH DataCenters, one of the leaders in infrastructure hosting in Continental Europe.
The guaranteed availability rate is 99.8% 24 hours a day, 7 days a week. Your data is backed up daily.
Please refer to our dedicated page
Why track the moves of your field technicians?
In some businesses, requiring installation & maintenance, operators are regularly on the move. Sites of intervention vary. Some can be far away, while others are a little closer. In any case, travel is mandatory if remote assistance is not enough. Moves may depend on the setting up of a geographical scope attached to a particular field operator. With software such as SOOdispatch, it is possible to track the mileage of your maintenance workers. This gives a better understanding of the way each person works, helping them to rethink & optimize their organization and, above all, to reduce their costs.
How to deal with an unhappy customer from your maintenance service?
Dissatisfied customers fall into several categories:
 The so-called 'litigious' customer: this type of customer is very strict about rules and regulations. They do not hesitate to enter into conflict with the company in order to win their case. They may threatren of legal action.
The 'emotional' customer: This type of customer appeals to empathy, compassion and understanding of their problem. They have to cope with a sensitive situation and will do anything to win their case.
The 'opportunistic' customer: This type of customer sees the slightest problem as an opportunity to obtain compensation at low cost. A way to waste time and money.
The 'sincere' customer: this type of customer does not want to obtain anything from the company they contact, except the redress they are legitimately entitled to.
The way in which the complaint is handled should not change according to the type of person encountered. Although the discussion will have to be adapted and, in the case of an opportunist or litigious person, an attempt will have to be made to return back to normal, the aim remains the same: satisfy the customer by proposing an alternative solution.
How to improve preventive maintenance of your equipment with SOOdispatch?
Our ERP makes maintenance planning easy to organise & adapt, whether on-site works are foreseen in the contract or one-offs due to a breakdown.
 With SOOdispatch, you have all the data about your maintained assets in real time on the cloud. Whether it is within the contract with scheduled maintenance or issues encountered during installation or maintenance visits, these data are useful for the next visit. The information flows quickly and your technicians get answers to a problem much more quickly. If they have a doubt as the answers are not in previous memorised maintenance reports or data, they can be quickly called back by a colleague who will be able to assist.
SOOdispatch tracks the maintenance flow of your clients' assets at every moment of their life cycle. This way, you knows when to intervene, what has been done or needs to be done, what has been repaired or may cause problems with similar assets in other locations.
Maintenance: why set up a limited geographic area?
Service companies that operate regionally or beyond, need to ensure that geographic scope of on-site works makes sense. If a maintenance operator's area to cover is too large, the time spent between each intervention may be too long, and associated mileage costs too high. Service operations may become unprofitable, and SLAs tougher to respect. Our SOOdispatch tool ensures excellent dispatch of maintenance workers and operators, according to geographies, as well as availabilities, skills & tools required. Our software is 100% cloud-based and centralises all the data required for maintenance operations, starting with the kilometres covered by its maintainers and installers, as well as estimated times of repair / maintenance.
Our colour code also allows you to define whether an operation is about to start, is in progress or is about to end. This makes it possible to monitor the progress of activities and, above all, to check in real time whether the geographical delimitation strategy is effective or not!
5 ways to optimise your technicians' maintenance tour
1- Optimise maintenance rounds by working on schedules
2- Respect personal and professional life balance of your workers
3- Distribute maintenance works in a fair and intelligent manner
4- Improve logistics flows
5- Analyse maintenance reports
Optimise maintenance rounds, thanks to SOOdispatch
– No more paper, go digital!
Maintenance, why opt for a Cloud & SaaS model?
The use of artificial intelligence is becoming more and more widespread and the maintenance and field service industry is not left out. Many analytical solutions make it possible to forecast.
Companies are thus moving from proactive to preventive on-site works. This leads to new processes and new training in the field. Companies gain in productivity and can generate more revenue.
At SOOdispatch, we have understood the stakes and the extent of the phenomenon. Our SaaS software is accessible and available to all companies willing to work in this direction while fulfilling the required security criteria.
Save time, increase profitability & client satisfaction while simplifying your technicians' daily work and your planner's workload.
SOOdispatch is a FSM (field Service Management) Cloud software dedicated service providers.
We help you manage all installation & maintenance operations, from the creation of the request, quoting to invoicing, including planning, field follow-up and the management of spare parts linked to on-site works.